Electronic driver's license control, recording and evaluating fuel data
With IntraKey fleet management, all important data can be collected and evaluated. The control of car washes and the connection of fuel pumps from various manufacturers complete the fleet management. The driving licences of employees can be checked automatically and participation in annual training courses can be deposited.
Electronic driving licence inspection
Electronic driving licence inspection reduces considerably the manual effort required when undertaking the legally prescribed driving licence inspection of staff with company cars.
Drivers will be reminded cyclically of their inspection appointment via e-mail, smartphone app or at the time-recording terminal and can prove the possession of a driving licence at the terminal independently.
The automated execution saves time and creates maximum legal compliance by means of the audit-proof storage.
Components for your fleet management system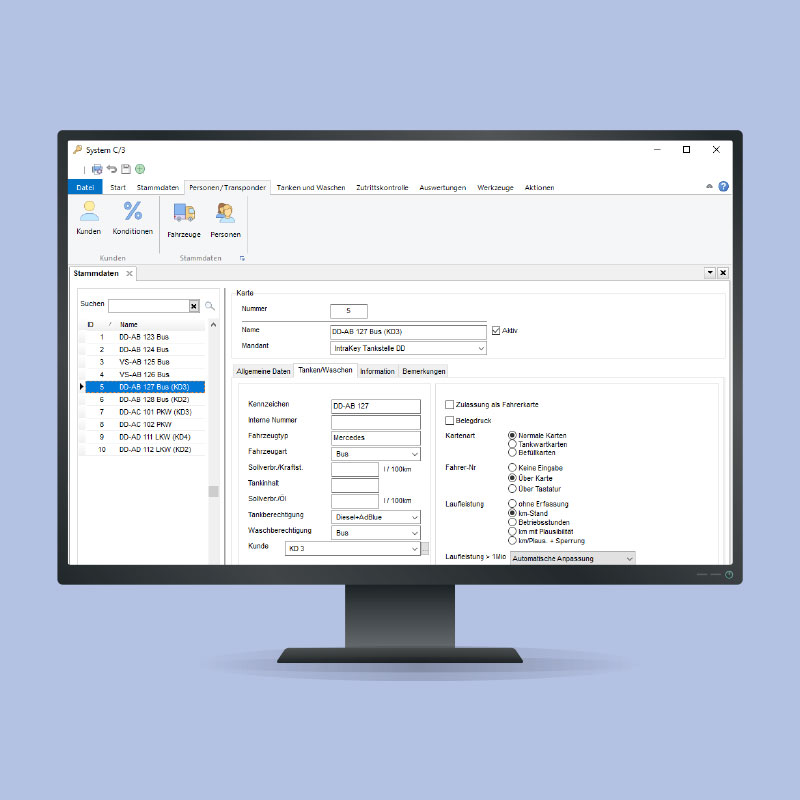 Fleet Management
Service intervals can be planned and monitored with the help of the vehicle fleet software. In addition to the individual recording of key data and the allocation of user profiles, a wide range of evaluation opportunities is available.
It is possible to maintain full control of costs for the entire vehicle fleet by means of interfaces to the IntraKey tank system or providers of fleet cards. By means of the additional tank data recording system, moreover, filling and washing data at several locations can be managed and consumption monitored.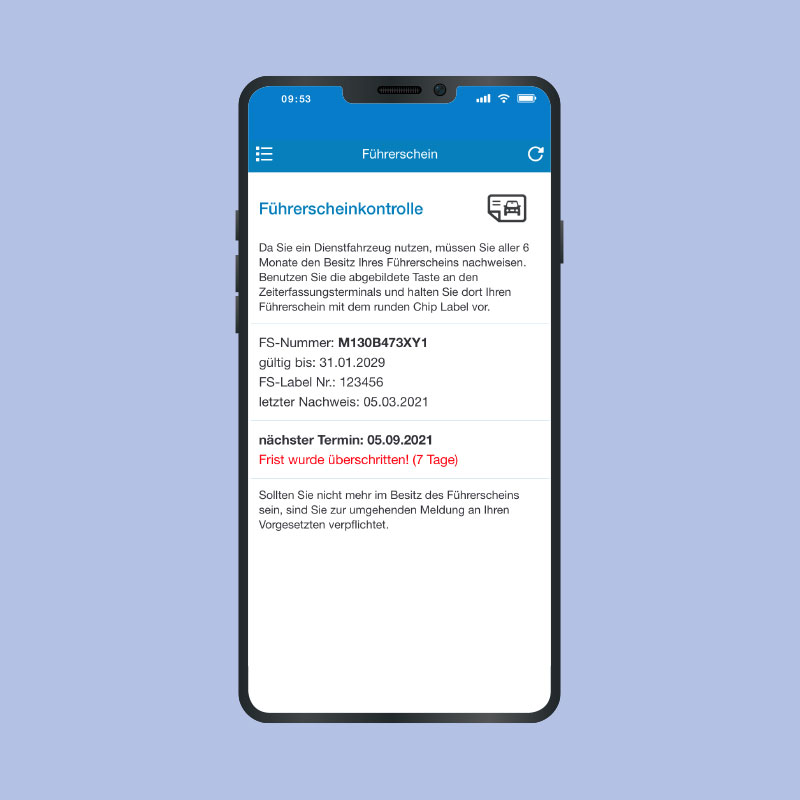 Fleet management app
Employees can be reminded of the driving licence inspection via app by means of a notice showing deadlines or the failure to meet a deadline.
The monitoring of tank filling levels and changing prices at the petrol pumps can conveniently be carried out via app, as can also the notice of free parking space capacity.
Auto fuel terminal
With the auto fuel terminal you can use filling pumps of all manufacturers.
If required, filling level sensors, price banners and ter­minals for the control of gates can be incorporated.
The applications extend from sim­ple company petrol stations with a single filling pump to complex public-transport system solutions.
Your personal system consultants
The right contact for every topic and all regions. We look forward to receiving your inquiries.
HEAD OF SALES
SYSTEM CONSULTING NORTH
KEYACCOUNT MANAGEMENT
SYSTEM CONSULTING SOUTH-EAST
KEYACCOUNT MANAGEMENT
HEAD OF PROJECT MANAGEMENT
SYSTEM CONSULTING MID-WEST
SYSTEM CONSULTING SOUTH-WEST
SYSTEM CONSULTING ID-MANAGEMENT